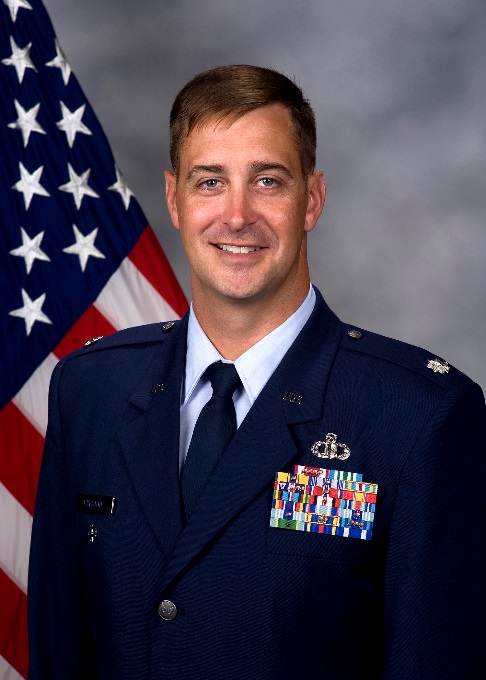 Detachment Commander
AS300 Instructor
Lieutenant Colonel J. Marshall Preston is the Commander, Air Force Reserve Officer Training Corps Detachment 365 at the Massachusetts Institute of Technology, Cambridge, MA. He is Detachment 365's Professor of Aerospace Studies, and a Visiting Professor at MIT. The Cadet Wing is comprised of over 80 cadets from MIT, Harvard and Tufts Universities and Wellesley College. 
Prior to this assignment Lt Col Preston served as the deputy commander of the 436th Mission Support Group, Dover Air Force Base, Delaware where he led over 1,400 Airmen in six squadrons: Civil Engineering, Security Forces, Logistics Readiness, Communications, Force Support, and Contracting. The group provided complete combat support, emergency services and base infrastructure for over 4,200 personnel supporting 31 C-5 and C-17 aircraft assigned to the 4336th and 512th Airlift Wings as well as the largest aerial port and only stateside port mortuary in the Department of Defense. 
His professional background and training is as an Airfield Operations officer (13M4). He is experienced in air traffic control, airfield management, airspace management, and terminal instrument procedures. He has deployed multiple times and served in career-broadening opportunities as Executive Officer to the Vice Commander, USAFE-AFAFRICA, Political-Military Strategist for South/East Africa, as well as Senior Airfield Authority and Installation Commander.
Lt Col Preston was born in Houston, TX, went to high school in Princeton, NJ and commissioned through AFROTC at Duke University in 1998 with a major in Public Policy Studies. He was a four-year NCAA Div. 1 varsity swimmer at Duke, recognized as most valuable swimmer his junior year, and named Team Captain his senior year.
EDUCATION
1998 - Bachelor of Arts in Public Policy Studies, Duke University 
2005 - Distinguished Graduate from Defense Language Institute, Spanish, Presidio of Monterey, CA
2005 - Squadron Officer School, Maxwell AFB, AL
2009 - Air Command and Staff College, Master of Military Operational Art and Science (distance learning)
2011 - Air Command and Staff College, Master of Military Operational Art and Science (in residence)
2016 - Air War College (by correspondence)
ASSIGNMENTS
1. July 1998 - April 1999; Student, Air Traffic Control, Airfield Management, and Airfield Operations, 97th Operations Support Squadron, Altus Air Force Base, Oklahoma
2. April 1999 - December 2001; Systems Officer, Airfield Operations Flight, 86th Operations Support Squadron, Ramstein Air Base, Germany
-Deployed: October 2000 - March 2001; Operations Officer, Airfield Operations Flight, 363th Expeditionary Operations Support Squadron, Prince Sultan Air Base, Kingdom of Saudi Arabia
3. December 2001 - July 2004; Commander, Airfield Operations Flight, 49th Operations Support Squadron, Holloman AFB, NM
-Deployed: December 2002 - August 2003; Air Liaison Officer, US Embassy, Islamabad, Pakistan
4. July 2004 - February 2005; Student, Spanish Defense Language Institute, Presidio of Monterey, California
5. March 2005  - October 2007; Chief, Terminal Instrument Procedures Latin America & Caribbean, HQ AMC/A3A OL-J, MacDill Air Force Base, Florida
-Deployed: January 2006 - May 2006; Chief Combat Airspace, Combat Operations Division, Combined Air Operations Center, AI Udeid, Air Base, Qatar
6. October 2007 - August 2008; Assistant Director of Operations, 571st Global Mobility Readiness Squadron, Travis Air Force Base, California
7. August 2008 - July 2010; Operations Officer, 572d Global Mobility Readiness Squadron, Travis Air Force Base, California
-Deployed: March 2009 - April 2009; Chief Airfield Assessment Team, 572d Contingency Response Group, Basra Air Base, Iraq
-Deployed: August 2009 - October 2009; Director of Operations, 615th Contingency Response Element, RC-West Shindand Air Base, Afghanistan
8. August 2010 - June 2011; Student, Air Command and Staff College, Maxwell Air Force Base, Alabama
9. July 2011 - June 2013; USAFE-AFAFRICA/A5KD, Political-Military Strategist - Eastern and Southern Africa, Ramstein AB, Germany
10. June 2013 - July 2014; Executive Officer to the Vice Commander USAFE-AFAFRICA, Ramstein Air Base, Germany
11. July 2014 - July 2016; Commander, 496th Air Base Squadron and U.S. Forces Commander, Moron Air Base, Spain
12. July 2016 - August 2019; Deputy Commander, 436th Mission Supporty Group, Dover Air Force Base, Delaware
-Deployed: January 2017 - July 2017; Chief, Airfield Operations Division, AFCENT/A3A, Combined Air Operations Center, Al Udeid Air Base, Qatar
-Deployed: May 2018 - December 2018; Commander, 768th Expeditionary Air Base Squadron and Installation Commander, Air Base 101, Niamey, Niger
13. August 2019 - Present; Commander, Air Force Reserve Officer Training Corps Detachment 365 and Visiting Professor of Aerospace Studies at the Massachusetts Institute of Technology, Cambridge, MA 
MAJOR AWARDS AND DECORATIONS
Meritorious Service Medal with six oak leaf clusters 
Joint Commendation Medal
Air Force Commendation Medal with two oak leaf clusters
Air Force Achievement Medal with one oak leaf cluster
Joint Meritorious Unit Award
Air Force Outstanding Unit Award with Valor Device and eight oak leaf clusters
Air Force Organizational Excellence Award
National Defense Service Medal
Armed Forces Expeditionary Medal
Afghanistan Campaign Medal
Global War on Terrorism Expeditionary Medal
Global War on Terrorism Service Medal
NATO Medal 
EFFECTIVE DATES OF PROMOTION
Second Lieutenant                        15 June 1998
First Lieutenant                             15 June 2000
Captain                                          15 June 2002
Major                                             1 April 2008
Lieutenant Colonel                        1 August 2013
(Current as of August 2019)